There was a lot of speculation about different moving habits and possibilities once COVID became a much bigger deal in mid-March, and we speculated a little bit ourselves too. We talked about a potential density shift, coming demographic shifts, and whether people would head to suburban housing options earlier in life because of the need for space post-COVID. 
In short, there were a lot of theories.
Now we have some facts!
The US Postal Service gave us said data
Via change-of-address forms, which people fill out and can note it as a "temporary" move (six months or less) or a more permanent move. Then, you know, you get your mail forwarded to the new address. 
Temporary moves were up 27% between February and July 2020 in the U.S. compared to the same period last year.
A permanent changes of address increased by just 1.9% year over year.
This data is based on about 15 million moves total.
MYMOVE, which is a service that helps you out with deals and moving when you're ready to do so, broke down all the COVID moving trends. As you can see below, a lot of people left Northeastern hubs and a lot of people entered Texan hubs: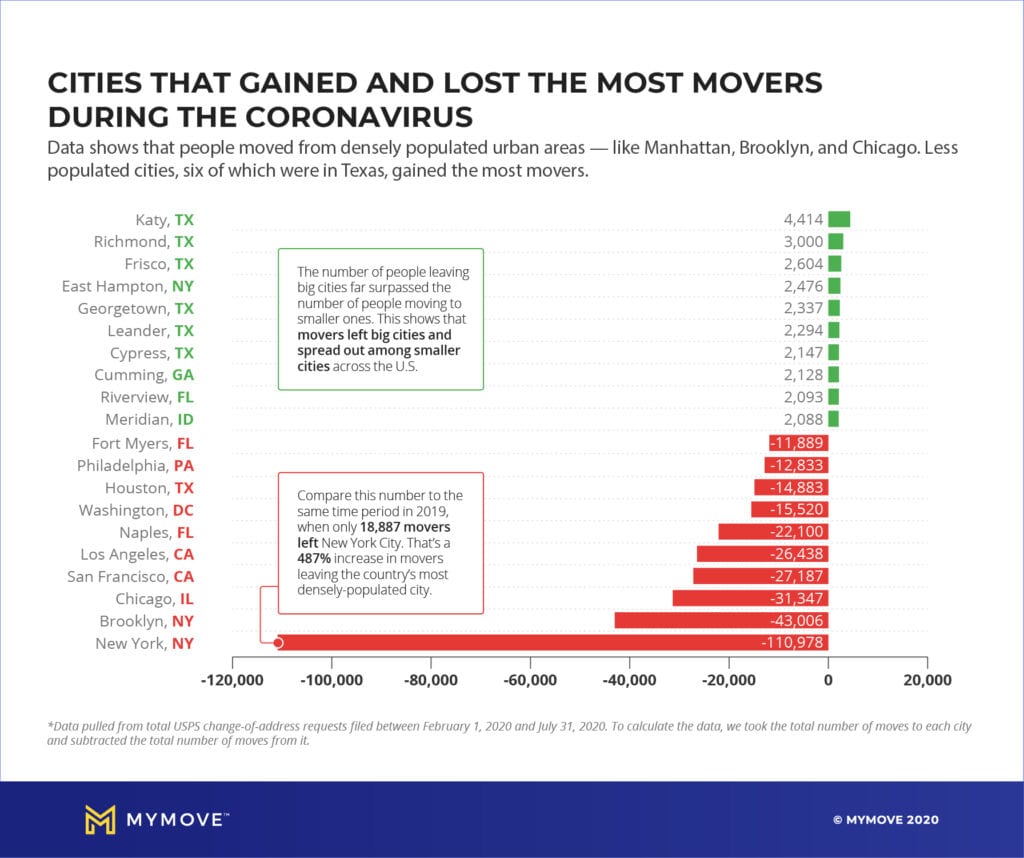 Now, from Bloomberg (the first link, above the bullets), we have this section on Frisco: 
Other cities on the list could represent more permanent moves to primary residences. Frisco, Texas, for example, a midsized city on the edge of the Dallas-Fort Worth metro area, is among the communities that have seen jumps in home sales. Amy Herzog, a listing agent with Century 21 in Frisco, says she's mostly selling to families who are interested in moving to the "country."
"I've never had so many clients in my life." said Herzog. "Internet's the big factor, that's the question I get: Make sure they have good internet."
Ah, Internet ... yes. We've previously known that people are looking for different things in their housing options now.
As for Frisco...
We love ourselves some Frisco. To wit:
So out of all the theories we had and concocted back on March 17, maybe the biggest theory out there is ... Frisco and Plano are about to grow like weeds.