Back last January, we wrote an article about how DFW renters were becoming older and richer, especially in the Arlington area. At the time -- pre-pandemic, no less! -- there were about 108.5 million renters in America, and the number of high-income renters had doubled between 2010 and 2019 in 46 -- yes, forty-six -- US markets, including DFW. We outlined some of the reasons driving this back then, too.
What are some of those reasons?
One easy answer is "more luxury apartments." That's a small part of the equation, yes.
You might think another answer is "People want to be closer to urban cores." That's actually not as big a factor, per RentCafe data: 40 of the 50 biggest cities in the U.S. -- including Dallas, Fort Worth, and Arlington -- saw suburban rental apartments grow at a faster clip than urban core rental apartments. 
And you might think it's solely a money issue, as many things are. But that is a little skewed too: rents went up 36% this decade, but median home prices only went up 27%. Wouldn't homes be a better investment, potentially? 
Well, no. Homes are a lot of money and apartments are not, necessarily. Incomes only went up about 20% this past decade -- below both apartments and home purchases -- and in reality, wages for most Americans have been stagnant since about 1983. Texas is sometimes considered a "miracle economy" by some, but wage growth hasn't been massive in DFW either. 
So, broadly speaking, people have less money relative to the cost of goods and services. We know fiscal literacy isn't that high in the U.S., and it's easier to budget around a rent payment as opposed to a mortgage payment, generally.
The other factor is Boomers. We touched on this in our blog about the debt crisis, but consider some fake math for a second. Let's say a Boomer bought a house 20 years ago for $180,000. Now they can sell it for $700,000. Awesome. But can they afford to get back into that $700,000 neighborhood immediately after the sale? Probably not. Their only entry point into that neighborhood, assuming they make the sale and don't "age in place," is probably to rent a new luxury apartment that has been developed adjacent to that hood in the last 5-10 years. That's driving the uptick in renting for older/more established people as well.
And now what's up in Frisco and Plano?
Per Dallas Business Journal, they have the largest increases in renter share, as seen here: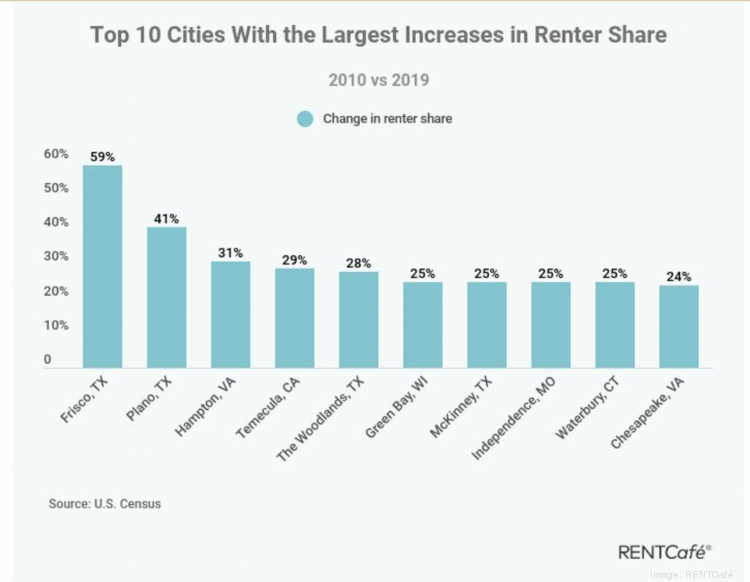 Additionally:
In the Dallas-Fort Worth area, 12 of the 14 cities with more than 100,000 residents saw their share of renters increase in the last decade, with Frisco and Plano leading nationwide, according to a new analysis by apartment search website RENTCafé. 
Frisco is the only city in the nation that more than doubled its renter population, reaching 58,000 in 2019.
Browse our apartment complexes in Frisco
You might be able to find your next spot.
Renting as a "permanent housing solution"
There are a couple of different factors at play here:
1. DFW especially right now is building a lot of multi-family complexes, which are almost always rentals, to the point that some are concerned we're overbuilding.
2. People have less money relative to the cost of goods and services than recently, and the pandemic did not help. As noted in Business Journal by Carlos Vaz, co-founder and CEO of CONTI Organization, a Dallas-based multifamily property owner-operator: 
"Many people now are having to tap into their savings," Vaz continued. "They've lost their job or their business is not afloat anymore or their business has incurred a massive amount of debt. So many people are going to question buying a house as an investment or even as a residence."
Consider this, too: Dallas, the region's largest city, added 101,000 renters in the previous decade. It only added 45,000 homeowners. That's a relatively large gap.
We often frame up homeownership as "equity" and a way that non-investors can play the big economy, but ... perhaps homeownership will be on the decline somewhat between now and 2029? We will see. 
Would you be happier renting or buying?
An oft-debated question. Can research solve it?